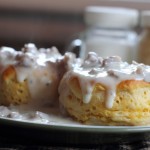 Remember when mom would make biscuits and gravy on the weekends? These were my favorites! Sometimes we'd have bacon or sausage on the side too. Yummm! Some people like jelly or preserves on their biscuits and I happen to be one of them. My favorite is grape or strawberry. They both taste great on these.
Ingredients:
Biscuits:
Gravy:
bacon grease from 8 slices of cooked bacon
1/4 c. all purpose flour
3 c. milk
Directions:
In a small bowl combine dry ingredients. Mix well.
Add oil, and mix well, then add milk and stir until well combined.
Make balls and place on greased cookie sheet.
Bake at 350° for 8-10 minutes.
In a sauce pan combine bacon grease and milk.
Let it get hot, then slowly add flour, stirring constantly till it gets thick.
Put on biscuits beside bacon and eggs.
Enjoy!