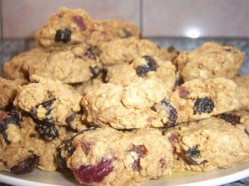 Makes about 3 dozen cookies
Ingredients:
3/4 c. butter
1 c. brown sugar
2 eggs
1/3 c. milk
1 1/2 tsp. vanilla
3 c. oats, uncooked
1 c. rice flour
1/2 tsp. baking soda
1/2 tsp. sea salt
1/2 tsp. cinnamon
1 c. raisins
1 c. candy fruit
Directions:
In medium bowl combine oats, flour, baking soda, sea salt, and cinnamon.
In an other bowl combine butter, sugar, eggs, milk, and vanilla.
Add raisins and candy fruit to butter and sugar mixture.
Turn on oven.
Combine dry and wet ingredients, mix well.
Make small balls (about 1 1/2 inches) .
Place on lightly greased cookie sheet.
Bake at 350° for 15 minutes.